B2B solutions for your sales
Optimise sales processes through automation
Traditional sales processes tie up time and manpower
In grown entrepreneurial structures that gradually use a wide variety of software systems and - especially nowadays - add e-commerce to the classic sales channels, the following situation is familiar: The individual systems are each well maintained and up to date. Without networking and automation routines, however, several steps have to be carried out multiple times for a single order from the online shop. The order has to be transferred to the ERP, the customer data to the CRM and then the stocks have to be corrected. Above a certain level of success and hundreds of orders, you quickly reach the limits of your capacity and errors can creep in.
Increase productivity & efficiency: automate workflows
Particularly in B2B trade, an order is often preceded by clearance processes such as proofs and information for traders. These certificates and documents often have to be checked manually in order to issue purchasing authorisations and clearances. If your Shopware 6 online shop is integrated into your company infrastructure via API, many processes and work steps can be massively optimised with some tools.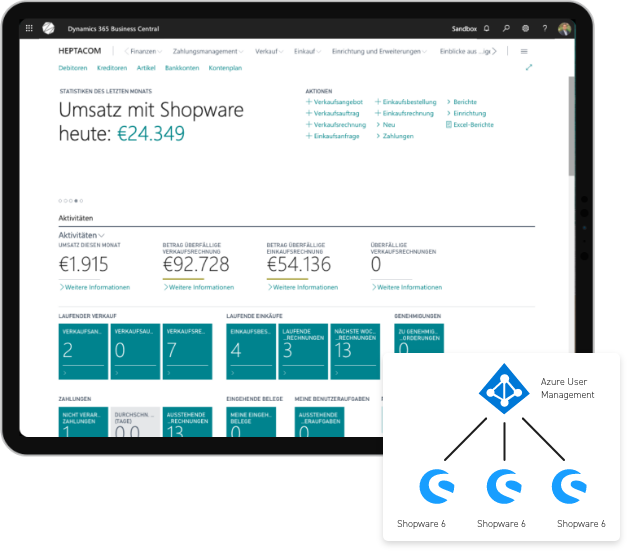 If your company already relies on the software solutions from the Microsoft 365 world, you already have access to many productivity-enhancing extensions and apps that only need to be used sensibly. We are not only a Shopware Platinum Agency (formerly Shopware Enterprise Agency) but also a Microsoft Partner. We have already been able to help many customers with digitisation measures to greatly optimise their processes.
An ideal workflow for a new B2B customer can therefore be greatly simplified and accelerated. The customer is in your Shopware 6 online shop, is very interested in your products and services and decides to create a user account. Here they find the verification form you require as download, can fill it out electronically and upload it again directly. Through a successful automated check of the UID and a comparison of the company data, the customer is now activated and can complete their order without long delays through manual checks.
EDMS & Automation: Manage documents in one place
An electronic document management system (EDMS) such as the open source software Mayan manages your documents centrally and makes them available to all connected systems. If all documents are stored in a cloud storage, they are also mobile (depending on access authorisation) and thus available for the field service. We will be happy to set up and configure the EDMS for you. A central document management system does more than just archive your sales documents. Your customer service, accounting and human resources departments also benefit from an EDMS.
Simplified administration of Shopware 6: SSO login for employees
Depending on the number of employees taking care of the content and settings of your Shopware 6 online shop, many user accounts with different access rights are often necessary. We have developed a solution that is more efficient and also easier to manage. Here, too, we rely on the resources that the Microsoft 365 cosmos offers you. For example, if you use Office 365, it is not necessary to log on to each programme (Outlook, Excel, Word, etc.) individually. The so-called Single Sign On (SSO) makes this unnecessary and ensures that you can start working directly every day without having to enter your password first.
The Shopware 6 plugin "Administration Login with Microsoft and JIRA" developed by us extends the login screen of the Shopware administration area with a button "Login with Microsoft" (or JIRA). You only have to click and you are immediately in the backend of the online shop and can start working. The only prerequisite for this is that your terminal (your desktop computer or smartphone) is already logged in on another Microsoft Office 365 application. This means you can manage permissions for almost all areas of your company centrally within Microsoft 365. Thus, "sleeping" open accesses (when an employee changes employers) are a thing of the past.
The HEPTACOM solutions for your sales:
Simplified order processes
Automated clearance processes
Central document management
Authorisation management with Microsoft 365
Would you like to drive your digitisation forward?
Are you interested in our B2B solutions for the digitisation of your company? You, too, would like to optimise your processes to simplify time-consuming procedures? Sales is just one of the places we can make more productive and efficient through meaningful digitisation. Also take a look at our B2B solutions for your customer service or financial management.
Feel free to contact us and we will show you in a personal conversation what we can do for your company. can do for your company.