B2B solutions for your financial management
Financial accounting, Human Resources & Business Intelligence
Networked systems save time & money
For many entrepreneurial decisions, various specific information is needed as a basis. Especially when it comes to deciding on new investments, many figures and calculations must be included in the decision. Relevant KPIs are often compiled manually in Excel spreadsheets in order to be able to make a valid statement about individual key performance indicators and the overall success of the company. Calculated over a year, the hours of work of all those involved can add up to a size that cannot be neglected. Modern Business Intelligence software, programmes for financial management and a linkage of all systems among each other already successfully take over these efforts in many companies. Especially if e-commerce forms a large part of your business, it is important to link the online shop system sensibly to your IT infrastructure.
In our function as a Shopware Platinum Agency (), we have already supported many customers in connecting their Shopware online shops to their ERP and CRM. If you also manage to integrate all of your company's data sources into a business intelligence solution, you get a cockpit that clearly presents all of the key figures, enables quick insights and supports you in making decisions and evaluations. Especially if your company already uses software from the Microsoft 365 "cosmos", you have numerous tools and interfaces at hand, which we can gladly set up for you and adapt to your individual requirements. Accurate data analysis and clear data visualisation are essential for businesses today. Microsoft's Power BI is a powerful tool that provides all departments with a clear overview of their important key figures.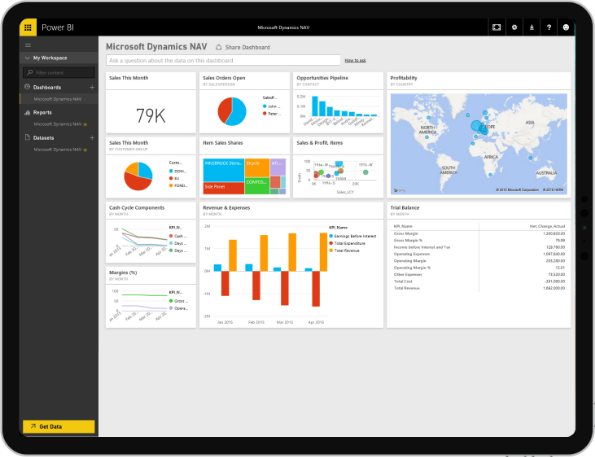 Your KPIs at a glance: Business Intelligence with Microsoft Power BI
Sales and success figures for individual product groups at the touch of a button? Current business intelligence software solutions make it possible. Visually displayed as a diagram, if desired in comparison with the previous year's figures, evaluations and success measurements can now be carried out very quickly. Avoid the so-called "silo formation" of company data and bring everything together centrally in Power BI. Meaningful data analyses are only possible if all relevant data sources are taken into account. How high are the shares of your e-commerce sales in the total turnover or how worthwhile are the variously expensive trade fair appearances? The insights that data analysis with Business Intelligence can provide you with are manifold. As a Microsoft partner, we are happy to support you in networking the various systems such as Shopware online shop, ERP, CRM financial and payroll accounting and bringing all the data together in Power BI for evaluation.
The key to data security and discretion is the very finely definable rights management of the Microsoft 365 Administration. Only provide the individual departments with the data they need for their work. The master dashboards for the company management show the overall status and all KPIs in their entirety. Dashboards can be designed very freely in Power BI, so that clarity is maintained by visualising only the key figures that are of interest to you. The displayed data can be filtered as desired and also exported to other applications of the Microsoft 365 family, such as Excel, in order to process them further there. We will be happy to show you in a personal conversation which possibilities of process control can be realised for your company with Power BI.
Optimise and relieve accounting & HR through DATEV connect
If you want to use functional and secure online services for your financial management, you cannot do without DATEV's software solutions. With DATEV connect, the company provides an interface that establishes data exchange between your DATEV applications (such as accounting or human resources) and industry-specific third-party systems such as your CRM, ERP or even Power BI. The advantages of a complete integration of DATEV services into your infrastructure are manifold. For example, you can avoid redundant data storage by maintaining the master data of your debtors and creditors exclusively in your CRM system. This saves you additional effort or avoidable errors, e.g. when changing master data.
If all systems work together harmoniously and accounting, CRM and ERP are linked, large working positions such as stocktaking become much easier and less time-consuming. We will be happy to set up and integrate DATEV connect into your IT infrastructure for you. Experience shows that the investment in software solutions for the digitisation and networking of business processes pays off very quickly.
All documents available centrally and structured: electronic document management
A smart solution for electronic document management (EDMS) forms the basis for many optimisation approaches to company processes. Centrally stored incoming and outgoing invoices, supplier contracts or written agreements avoid duplicates, save data and can be made accessible to all connected systems. We rely on the open source EDMS Mayan, as it can be adapted exactly to your needs by our programmers. Use modern cloud storage to keep all documents secure and organised and always available. Data loss in the event of a failure of your IT system can threaten your existence and is prevented by the use of tried and tested cloud storage. Sensitive documents are protected from being accessed by unauthorised persons through role-based rights management and are only accessible to assigned persons. The major cloud providers such as AWS (Amazon Web Services), OneDrive (part of Microsoft 365) or Google Drive guarantee you the highest data security and are optimally protected against unauthorised access.
Your electronic document storage is integrable into many other systems. For example, use Microsoft Power Automate to create workflows for your correspondence that automatically add all required attachments or use the search function to search your stored incoming invoices for very specific item positions. A well-maintained EDMS also facilitates the work areas of sales and customer service by making the necessary documents available in the field.
The HEPTACOM B2B solution for Business Intelligence & your financials:
KPI dashboard with Business Intelligence
Central consolidation of all company key figures
Data consistency between all systems (CRM, ERP, Shopware)
Central management of access authorisations
Uniform master data maintenance (DATEV Connect)
Central document management (EDMS)
Do you want to have your key performance indicators at a glance and relieve your financial management?
Were we able to convince you of the qualities of the solutions we presented for companies? If you also want to clearly evaluate your company's data and support your financial management with a smart integration, then we are the right counterpart. In this context, why not also take a look at our digitisation solutions for your sales, your customer service and your IT department.
Contact us and we will be happy to discuss in a personal appointment what our digitisation solutions can mean for your company in detail.