B2B solutions for your customer service
Optimise communication with B2B portals, Helpdesk systems and an EDMS
Faster & more reliable:
Chat & ticket systems in customer service
In times when D2C (direct-to-consumer or rather direct-to-customer in the B2B sector) is becoming more and more important, communication in large companies takes on a high priority not only in customer contact. Especially when a customer concern has to be dealt with by another department and it has to be comprehensible what has been discussed so far in case of later enquiries, problems can often occur. Using the example of a classic complaint handling process, it quickly becomes clear that comprehensibility and the exact status of the processing are more than important when a case already extends over several contact points and escalation levels. Having to describe the nature of the complaint from the beginning over and over again or being asked to spell a name repeatedly quickly leads to frustration and thus may lead to the loss of the customer. A fast and uncomplicated handling, on the other hand, leads to satisfied customers who are happy to remain loyal to your company, even in the case of a complaint. An integrated B2B portal from HEPTACOM ensures precisely this smooth communication.
We support your customer service with software solutions, that help you implement a comprehensible, contemporary and structured form of customer communication. The key here is not only the use of additional software systems, but especially the networking of these systems with each other. Only when every piece of information about a case is accessible to every agent can multiple queries by your service staff, duplicate or incorrect replacement deliveries and frustrated customers be avoided. As a Shopware agency with many years of experience, we offer you to expand your online shop with Helpdesk functions and to integrate them sensibly into your company infrastructure.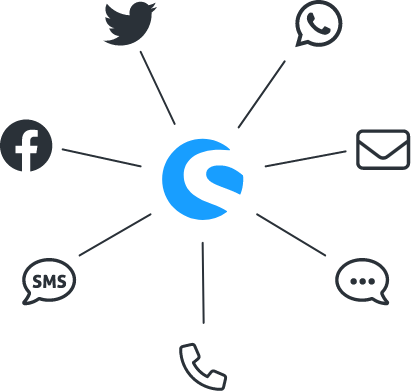 Multitasking, Communication & satisfied customers:
Helpdesk software & EDMS
Chat systems, also called Helpdesk, are increasingly widespread in e-commerce. The reason for this is the higher response speed compared to emails or a contact form sent from the online shop. If a chat system such as Zammad is integrated and your employees are familiar with it, customer enquiries can be answered seven times faster on average. If Helpdesk systems are integrated into your IT infrastructure and connected to your CRM, it is ensured that all employees with customer contact have access to all important information (customer data, order history, processing history, etc.). This networking allows for a quick overview, a confident appearance and at the same time conveys competence and trust. A system for central electronic document management (EDMS) such as the open source software Mayan ensures the availability of all relevant documents in customer service. Thanks to modern document storage in a cloud storage system, all information is also always available to your field staff. Of course, it is important to have a finely structured authorisation management and a clear filing structure so that your employees only have access to the documents that are relevant to them. We will be happy to support you in setting up and adapting the system to the individual requirements of your company.
Internally, chat and ticket systems like Zammad offer even more advantages. Your departments and teams can communicate more clearly with each other and assign tasks to each other for further processing. A ticket system for customer service provides far more clarity and commitment than internal emails or a classic inbox with notes can. If all service employees work in a ticket system, the progress and history is always comprehensible and tasks can be optimally prioritised and assigned. Experience has shown that if your customer service is used intensively, there can always be overlaps. You are still formulating a ticket and the phone rings or a new customer contacts you in the chat. Zammad offers two useful functions that support your team. New requests are automatically opened in a new tab and the auto-save function automatically saves all changes and entries already made.
Customise Helpdesk solutions individually:
Open source software
The advantage of open source software is the possibility of being able to make individual adjustments. Our programmers can not only visually adapt your Helpdesk solution to your CI, but also set up desired automations of processes, such as channelling certain requests to the responsible service staff or implementing Single Sign On methods. Another advantage of Zammad's helpdesk software is the different licensing models. The software is available both as a SaaS solution and for installation on your own server (on-premise). This flexibility can therefore be adapted to your requirements. However, the very cost-effective SaaS variant of Zammad saves you all the effort for installation, updates and maintenance of the system and is further scalable at any time.
Automation functions such as text modules, macros (shortcuts for repetitive work steps), triggers (e.g. automatic responses when new tickets are opened) and automations (e.g. emails to team leaders on the daily status of the service) make your service team's daily work easier, give customers immediate feedback and can provide team leaders with daily insights. We are the right contact for you when it comes to integrating your Zammad-Helpdesk system into your IT infrastructure. Only the connection with your Microsoft 365 programmes such as Outlook, CRM or even your IP telephone system brings out all the advantages for your customer service. A connection to your telephone system makes your service team's work easier and saves your customers a lot of indications. Your customer calls, your CRM and his open service ticket open automatically. You immediately know who is calling and, in the case of an ongoing enquiry, why and what the current processing status is. We are happy to support you in making the work of your service team easier with modern digitisation solutions and to further increase the satisfaction of your customers.
The HEPTACOM solutions for your customer service:
Short reaction time for enquiries
Comprehensible communication
Avoidance of duplicate processing
Prioritising & Task allocation
Centrally managed documents (EDMS)
Overview of all service activities
You want to improve and support your customer service?
Were we able to spark your interest in digitising your customer service? We would be happy to support you in optimising your company processes and helping your service to achieve faster response times, more productivity and transparency. Take a look at our other B2B solutions for optimising your sales, finance and HR and IT departments. A digital transformation of your business processes can sustainably increase both your efficiency and your entrepreneurial success.
Feel free to contact us and we will show you in a personal conversation what we can do for your company.