B2B solutions for your IT department
Interfaces, Automation & simplified authorisation management
Simplify workflows with automation tools & and system integration
Many different software systems often come together in well-established companies in the SME and industrial sectors. If all systems work separately from another and there is no direct data exchange, inconsistent and redundant data management can occur. User administration can become very labour-intensive and time-consuming intermediate work steps are often necessary for important work processes. Many of these problems can be eliminated and solved by modern digitisation solutions, such as linking the various systems with the help of functional interfaces. If all software systems work together optimally and are supplemented by additional functions, productivity, efficiency and safety can be increased. Automating repetitive work processes, linking all systems and using modern cloud services offer you a wealth of optimisation options.
Simply integrating your e-commerce system into your company's infrastructure, including a connection to ERP and CRM, eliminates many unnecessary work steps and sources of error, both in master data entry, shipping and also warehousing.Our programmers have developed functional interfaces that can connect Shopware online shops to a wide variety of third-party systems for this purpose. With the help of such connectors, data synchronisation is ensured, and intermediate steps in the processing of orders and incoming goods become superfluous. Automated routines for defined processes can also make work even easier.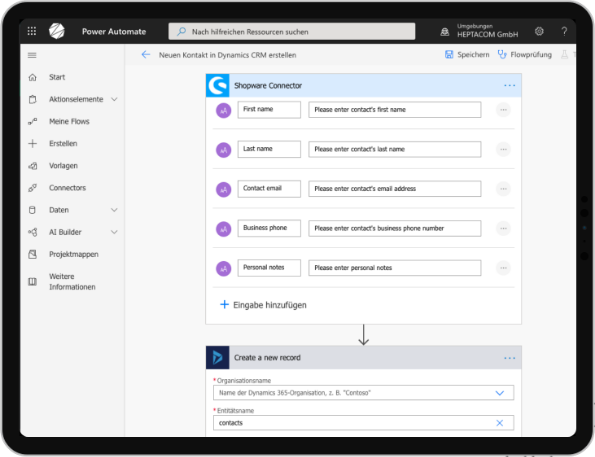 Connect Shopware, ERP & CRM: Cross-system workflows and data management
The differences between the software solutions of many providers or even within one software with large version jumps ensure that there cannot be a simple plug and play solution for middleware to other systems. Formats and the naming of database fields always make individual adaptation necessary here. Our developers have already programmed precisely designed interfaces between Shopware and individual ERP systems for our customers ("HEPTACOM NAV Synchronisator" and " HEPTACOM Dynamics 365 Synchronisator"). The API-centric architecture of Shopware 6 makes this connection comparatively easy for us as a Shopware agency. Our developers were directly involved in the development of the new e-commerce platform and are in active exchange with the Shopware community.
Many of our customers rely on Microsoft's ERP solutions, such as Dynamics 365 (formerly Navision), which is why we also developed and successfully implemented our first interfaces for this software. But it doesn't always have to be Microsoft. The general functioning of ERP and CRM systems differs in details and the type of data structure, but with the help of our universal connector HEPTAconnect, these differences can be bridged and data exchange can be realised. If a new customer now places an order in the online shop, the customer data can be transferred to the CRM, the order can be processed in the ERP and all necessary documents can be generated, without time-consuming intermediate steps. In addition, your stock levels are automatically synchronised and corrected after a sale or goods inward. As a Shopware Platinum agency (formerly Shopware Enterprise Agency) and Microsoft partner, we are exactly the right counterpart to facilitate your daily work and optimise important processes.
HEPTAconnect: Let all channels & systems communicate with each other
How do you manage to maintain all product and customer data in one central place and at the same time supply any number of sales channels (Shopware 6 online shop, Amazon, ebay, Rakuten, etc.) with that data and synchronise placed orders with all systems? In addition to that, a Helpdesk ticket should be created for each individual order within a defined period of time? No problem. For precisely such and similarly complex tasks, our developers have created HEPTAconnect, an extremely flexible software solution. The functionality of this omni-interface can be compared to that of a data distributor. Any request initially goes to this point, the type of request is identified and then forwarded and processed according to the previously defined logic and routes.
To put it simply, the basis for communication between many very different systems is to create a common language base. We define a data set for all synchronisable data types (order, product, customer) that enables the many imaginable end points of HEPTAconnect to translate the names of all database fields. In principle, an order (e-commerce record) is structured very similarly for each sales channel and contains identical information, such as customer data, product, quantity, order number and so on. However, the database name and nomenclature is different for all channels. The endpoints of HEPTAconnect now act as a bidirectional translator so that both your ERP (Business Central) and your Shopware 6 shop, Amazon, ebay and Google Shopping can understand and also process the data from the data sets.
At the same time, HEPTAconnect also determines what should happen to which data, where it should be forwarded to and whether other events should be triggered at the same time. This software is therefore more than just a classic interface. Rather, it is the leading organ at the centre of your IT infrastructure, routes all information into the defined channels and is the main adjusting screw for comprehensive process optimisation. It does not matter how many systems or sales channels are connected. Online shops with the most diverse systems (Shopware 5, Shopware 6, Magento or others) and a variety of marketplaces and internal software solutions can be connected via HEPTAconnect. When all processes and routes are clearly defined, all your connected sales processes play together like clockwork and avoid unnecessary effort and intermediate steps.
Simplify recurring work steps through automation
Should your company already use software from the Microsoft 365 family, you have access to many very useful tools and functions that can greatly optimise your processes. With Microsoft Power Automate (formerly Microsoft Flow), you can integrate and link a wealth of third-party software and functions right from the start. The template gallery also offers you standard automations used by many users. As a Microsoft partner, however, we can also create completely customised workflows that precisely meet all your company's requirements. The spectrum of application possibilities offered by Microsoft Power Automate ranges from simple automations of your e-mail correspondence to more complex chains of work steps that have to follow one another.
A frequently used automation in sales is, for example, the first proposal submittal letter of a new B2B customer with offers and agreements. A sales employee triggers the previously set up automation "New customer" in Outlook 365, purpose-bound text modules now provide the most important details and clauses and your current sales documents and product catalogues are automatically attached. Your employee can now fully concentrate on personally addressing the new customer. Forgotten attachments and inconsistent cover letters are now a thing of the past. But dependencies and processes can also be automated outside of correspondence. If, for example, the working hours are recorded electronically, you can automatically export the time spent and distances covered by your field staff into Excel files in order to be able to carry out evaluations and further calculations more quickly. The benefits and possible applications of automation are manifold. We will be happy to determine in a personal conversation which opportunities for optimisation your business processes offer and present the appropriate solutions to you in detail.
Shopware SSO Login with Azure AD or Atlassian Access
The organisational structure of large companies with many departments, employees and temporary staff requires many individual user accounts, passwords and accesses to the most diverse systems. When employees leave the company and new ones join, your administrators are asked to close accesses, redirect email accounts and delete and create user accounts. Depending on the scope of the systems used and the number of employees, potential security gaps can arise here. If an employee concerned has not left the organisation by mutual agreement, they could now use their access to harm you economically or to misuse data for other purposes. As a Shopware Platinum partner in close contact with the developer community and as a member of the Alliance for Cyber Security, we are always aware of the importance of the security of e-commerce data and IT access.
We have developed an administration plugin for Shopware 6 that makes it possible to manage user rights centrally in the Microsoft 365 administration or your Atlassian account. This makes the separate creation or removal of Shopware user accounts superfluous. Every employee with granted authorisation can now access the Shop Administration by clicking on the button "Log in with Microsoft" or "Log in with Atlassian" without having to enter any further access data. The only requirement is that the employee's end device is already logged into a Microsoft or Atlassian application. Make it easier for your team to edit your shop content and at the same time ensure that access authorisations can be effectively managed centrally by your administrator.
The HEPTACOM solutions for your IT department at a glance:
Connection of all software systems through interfaces
Uniform data management (master data, stocks, stock movements)
Save expenses for intermediate steps
Automation of recurring processes with Power Automate
Central user management and SSO login (Azure AD or Atlassian Access)
Do you want to network your IT infrastructure and simplify administration?
Were we able to spark your interest in the advantages of networked IT and the automation of processes? We have already successfully supported many customers with our process optimisation solutions. Take a look at our digitisation solutions for your sales, finance, and customer service. We would be happy to discuss in a personal meeting how we can also streamline and optimise your business processes.